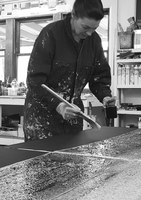 About Gemma Lynch-Memory
Gemma Lynch-Memory has a Bachelor's Degree in Visual Art (Painting Major) and a Master's Degree from the University of NSW (COFA). For over twenty-five years and with 36 highly successful solo exhibitions held in prominent galleries across Australia, Lynch-Memory's work has consistently captured the attention of the general public and art collectors alike.

Her artistic approach seamlessly blends segregated colour chords, textured impasto oil paint, and intricate mark-making. Inspired by the emotive power of natural elements, Lynch-Memory navigates between abstract landscapes and organic abstractions. Noteworthy are her meticulous compositions, particularly evident in her larger-scale works, which highlight her years of commitment to her conceptual and technical capacity.

Lynch-Memory's art possesses an undeniable ability to deeply resonate with viewers. This elusive quality arises from the synergy between technical proficiency and an authentic creative vision. Her art strikes a delicate balance between aesthetics and emotion, captivating observers and inviting contemplation. Through her extensive body of work, Lynch-Memory exemplifies the enduring allure of artistic exploration, where skill and genuine creative expression intertwine.

To download a copy of "A Retrospective - Works from 2000 to 2010" please click here
Exhibiting At
To view the latest work from Gemma Lynch-Memory, please visit the TAG Art Gallery at 60 Murray St, Hobart TAS.
View Gallery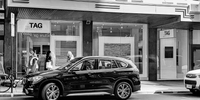 Selected Works and Artist Biography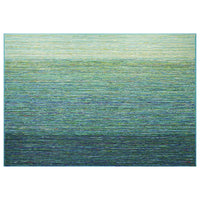 'Belief'
Oil and Mixed Media on Canvas
170 x 250cm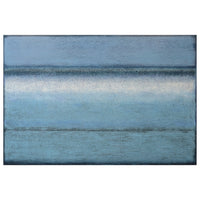 'A Perfect Storm'
Oil and Mixed Media on Canvas
135 x 200cm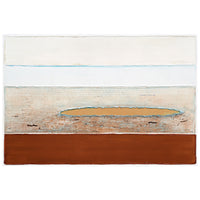 'Muddy Waterhole'
Oil and Mixed Media on Canvas
135 x 200cm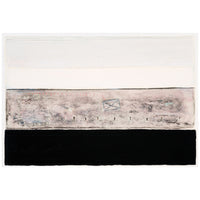 'Char'
Oil and Mixed Media on Canvas
120 x 200cm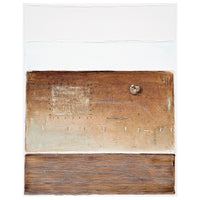 'New Landscapes
Oil and Mixed Media on Canvas
150 x 120cm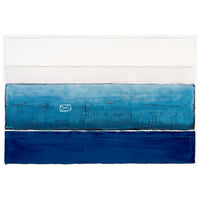 'Aurora'
Oil and Mixed Media on Canvas
135 x 200cm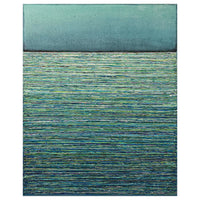 'Harmony'
Oil and Mixed Media on Canvas
150 x 120cm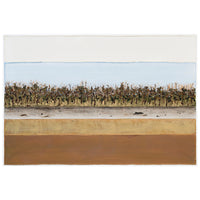 'Big River'
Oil and Mixed Media on Canvas
170 x 250cm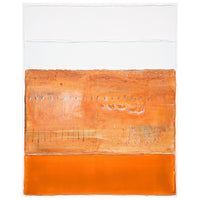 'Off The Map'
Oil and Mixed Media on Canvas
150 x 120cm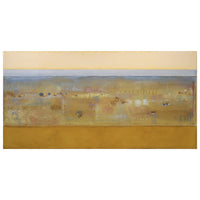 'Journey To Anywhere'
Oil and Mixed Media on Canvas
120 x 240cm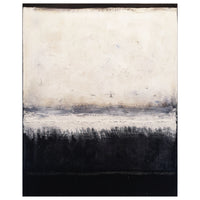 'Retribution'
Oil and Mixed Media on Canvas
150 x 120cm
'Tidal'
Oil and Mixed Media on Canvas
150 x 120cm
Gemma Lynch-Memory CV
Artist Biography
Education/ Travel
1970 - Born Bathurst, NSW
1992 - Bachelor of Visual Arts (Painting Major) University of New England
1994 - Master of Art Admin - University of New South Wales
1995/6 - Travelled to Africa, Egypt, U.K., Europe, U.S.A.,
Solo Exhibitions
1996 - 'Testimony' ARDT Gallery - Sydney
1997 - 'Postcards' Lyall Burton Gallery - Melbourne
1998 - 'Search for Meaning' Trevor Victor Harvey Gallery - Sydney
1998 - 'Journey' Greenaway Gallery - Melbourne
1999 - 'Duality' Trevor Victor Harvey Gallery - Sydney
2000 - 'Little Kingdom' Trevor Victor Harvey Gallery - Sydney
2001 - 'Waiting for Rain' Trevor Victor Harvey Gallery - Sydney
2002 - 'Earthworks' Trevor Victor Harvey Gallery - Sydney
2002 - 'Urban Paddocks' Chifley Plaza - Sydney
2003 - 'Brand New Day' Trevor Victor Harvey Gallery - Sydney
2003 - 'Daylight' Chifley Plaza - Sydney
2004 - 'Under a Sunlit Sky' - Trevor Victor Harvey Gallery - Sydney
2004 - 'East to West' - Gullotti Gallery - Perth
2005 - 'Travelling Without Moving' Gullotti Galleries - Perth
2005 - 'Landmarks' Libby Edwards Galleries - Melbourne
2006 - 'Terra Firma' Libby Edwards Galleries - Sydney
2006 - 'Incandescent' Libby Edwards Galleries - Brisbane
2006 - 'Off The Map' Paul Gullotti Galleries - Perth
2007 - 'New Landscapes' Libby Edwards Galleries - Melbourne
2009 - 'New Works' Cudgegong Regional Gallery - Gulgong
2009 - 'Big Country' Yarra Ranges Arts Centre - Yarra Valley
2009 - 'Big Country' Chifley Tower Gallery - Sydney
2009 - 'Big Country' Cooper Gallery - Noosa
2010 - 'Big Country' Gadfly Gallery - Perth
2010 - 'Big Country' Collins St Gallery - Melbourne
2011 - '40 Degrees South' - The Artison Airport Gallery - Hobart
2011 - 'Recent Works' - The Artison Airport Gallery - Hobart
2012 - 'This Land' - The Artison Airport Gallery - Hobart
2013 - 'Fleur' - Traffic Jam Galleries - Sydney
2014 - 'Road Less Travelled' Traffic Jam Galleries - Sydney
2018 - 'Maps of Meaning' Traffic Jam Galleries - Sydney
2021 - 'Resonate' Traffic Jam Galleries - Sydney
2021 - 'Continuum' TAG Gallery - Hobart
2022 - 'Islander' TAG Gallery - Hobart
2023 - 'Adrift' TAG Gallery - Hobart

'emily:explorer' National Touring Exhibition
2007 - 'emily:explorer' National Touring Exhibition - Sydney
2008 - 'emily:explorer' National Touring Exhibition - Perth
2008 - 'emily:explorer' National Touring Exhibition - Brisbane
2008 - 'emily:explorer' National Touring Exhibition - Melbourne
2009 - 'emily:explorer' National Touring Exhibition - Hobart

Awards and Prizes
2007 - Fleurieu Art Prize Finalist
2019 - Mosman Art Prize Finalist

Selected Group Shows
Numerous group shows and art fairs.

Publications and Media
2001 - 'Artist Profile' Luxury Home design Magazine
2003 - Featured 'Australia's 50 Most Beautiful Homes' Publication
2004 - Featured 'Australian Women Weekly - Andrew Dado Profile' Publication
2005 - 'Artist Profile II' Contemporary Home Design Magazine
2006 - Home and Garden - Review
2006 - 9606: gemma lynch-memory 'selected works from the last decade' Publication
2006 - Australian Country Style Magazine - Artist ProfileText
2007 - Art in WA - Review
2007 - Northern Territory Times - 'emily:explorer' Feature
2007 - Courier Mail - 'emily:explorer' Feature
2007 - Yarra Valley Leader - 'emily:explorer' Feature
2007 - ABC Radio National Bush Telegraph Program - 'emily:explorer'
2007 - ABC Radio National Bush Telegraph Program - 'emily:explorer' Update (Live To Air)
2007 - Rural Press Association - Artist Profile
2007 - ABC 7:30 Report - 'emily:explorer' Feature with Murray McLaughlin
2007 - ABC Radio National Australia All Over Program - 'emily:explorer'
2007 - Adelaide Advertiser - 'emily:explorer'
2007 - Sydney Morning Herald - 'emily:explorer'
2007 - Australian Geographic Magazine Feature - 'emily:explorer'
2007 - Mosman Daily/North Shore Times - 'emily:explorer' Feature
2007 - ABC NSW Regional 'Sunday Mornings' - Artist Profile
2007 - Wings World Quest - Recognised by International Women Explorers Foundation as Contemporary Australasian explorer: Arts/Humanities
2008 - ABC Regional Radio WA - Interview
2008 - ABC Regional Radio VIC - Program 'Books That Changed Your Life'
2008 - West Australian Newspaper 'Sunday Life' Magazine - First Lady
2008 - Australian Art Review - 'emily:explorer' National Touring Exhibition
2009 - RM Williams 'Outback' Magazine - Artist Feature
2009 - Melbourne Living Magazine - Artist Profile
2009 - Luxury Home Design Magazine - 'Big Country' Exhibition Feature
2010 - 'Big Country' Collection Catalogue
2010 - Fearless Femmes - Outer Edge Magazine
2010 - ABC Radio National - 'She Who Explorers' Documentary
2011 - Country Collections Magazine - Feature
2012 - APC Magazine - Inspiring Women Feature
2012 - Harbour View Magazine - Artist Feature
2013 - Mosman Daily - Exhibition Review
2013 - News Corp - Lifestyle Feature
2015 - Tasmanian Sunday - Home and Harvest Editorial
2018 - Sydney Arts Guide - 'Maps of Meaning' Exhibition Review
2021 - Hobart Magazine - Artist Feature
2021 - Mercury Newspaper - TAG Gallery Opening
Collections
Numerous public and private collections in Australia, Europe and the USA